Considering the Mediterranean Diet? Add Healthy Soyfoods into the Mix
Soyfoods and the Mediterranean Diet go together like, well, tempeh and olives, or lightly salted soynuts and cheese. When U.S. News recently convened a panel of experts to rate diets, the Mediterranean Diet emerged as their 2019 choice for the #1 Best Diet Overall. Consider the ways that soyfoods fit into this healthy eating plan that is focused on plant-based foods. The Mediterranean Diet incorporates more legumes, nuts, fruits and vegetables, and whole grains into your diet. When you replace saturated fats with healthy unsaturated fats to lower the risk of cardiovascular disease, soyfoods are right there with you. Soyfoods provide high-quality protein, are low in saturated fat and high in polyunsaturated fat, and are one of the few good sources of both essential fatty acids. Soyfoods offer approximately seven to fifteen grams of high-quality plant protein per serving.
Convenient soyfoods include: protein-rich soymilk; tempeh (a high fiber and high protein fermented soybean cake, ideal for sandwiches and appetizers); edamame to add protein to salads and vegetable dishes; and high fiber canned soybeans for soups and stews. Other ingredients include Textured Soy Protein (TSP) or Textured Vegetable Protein (TVP), shelf-stable high protein granules made of defatted soy flour.  Tofu is available in several forms and textures, making it ideal for a variety of applications ranging from smoothies and sauces, soups, dips, salad dressings and desserts. Stir silken tofu into polenta or mashed potatoes to add a creaminess and protein.
How can you incorporate versatile soyfoods into The Mediterranean Diet?  Let us count the ways:
1. Soy-ize your family's favorite recipes without giving up all those Mediterranean foods and flavors you love. Replace half of the ground turkey, beef or chicken in recipes by replacing it with (TSP) that provides protein without adding saturated fat or cholesterol. This economical ingredient provides a protein boost to canned soups and your favorite pasta sauce recipes. There's no need to rehydrate it; when you add it to the pot, it will absorb liquid. 
For for new Mediterranean-inspired main courses, visit The Soyfoods Council website. You'll find ideas like Tempeh and Edamame Pizza with a crust that incorporates soy flour. The pizza protein features crispy stir-fried cubed tempeh that has been marinated in a soy-garlic-ginger-soybean oil sauce. After adding pizza sauce, sprinkle with toppings such as edamame, mushrooms, green pepper, green olives and shredded mozzarella and provolone cheeses. Other soy-rich Mediterranean recipes range from Soy Italiano Spinach Pasta Rolls with Soy Protein (TSP) Marinara Sauce to Easy Stuffed Shells that you can make in an electric pressure cooker or multi cooker. The stuffed shells are filled with mashed soft silken tofu, shredded cheese, an egg or egg substitute and fresh parsley. 
2. Turn to soyfoods to add a natural complement to the clean eating and simple ingredients found in the Mediterranean Diet. Pair extra firm smoked tofu cubes and feta with an assortment of olives on your antipasto plates. Create silken tofu-based salad dressings for fresh vegetable salads. To make Creamy Roasted Red Pepper Vinaigrette, blend together soft silken tofu, chopped roasted red peppers, minced garlic, freshly squeezed lemon juice, smoked paprika and soybean oil; season with salt and pepper. Other salad ideas include Edamame with Dried Cranberries, Feta and Basil, drizzled with a touch of olive oil and a bit of freshly ground black pepper.    
3. If you're looking for flexitarian friendly foods, say hello to soy.  The blend of flexible and vegetarian eating is a diet of moderation and modification. Drink soymilk lattes or heat chocolate soymilk for a quick hot chocolate. Try adding equal amounts of TVP/TSP to ground beef, pork chicken or turkey before you make meatballs or meat sauce. To create more healthful salad dressings and dips for fresh vegetables, start with silken tofu. To make Tofu Ranch Dressing, for example, add a drained package of silken tofu to a food processor or blender with 5 Tbsp. soybean oil, 2 Tbsp. lemon juice, 1 tsp. garlic powder, 1 tsp. parsley, 1 tsp. onion powder, 1 tsp. black pepper and 2 tsp. salt (or to taste). Blend, and add a little water if the dip consistency is too thick. 
4. Enjoy more sweet endings to your meals with desserts featuring soyfoods. The Soyfoods Council offers recipes such as Spiced Fruit Dip and Tiramisu Shots.  For a fresh spin on tiramisu, create small desserts featuring firm silken tofu, brewed espresso, sugar, lemon juice and vanilla sponge cake. The dessert is finished with a dusting of cocoa powder and a garnish of chocolate-covered espresso beans.  For a simple Mediterranean-style dessert of fruits like pears, figs or grapes, make Spiced Fruit Dip. In a blender, combine firm silken tofu, brown sugar, cinnamon and vanilla extract. Chill before serving with fresh fruit.
To learn more about soyfoods in general and the ingredients that can easily tweak your favorite recipes, visit The Soyfoods Council website at www.thesoyfoodscouncil.com. You'll also find diet and health information, soy cooking tips, and detailed soy-based recipes for food and drinks your whole family will love.
#
About the Soyfoods Council: The Soyfoods Council is a non-profit organization, created and funded by Iowa soybean farmers, providing a complete resource to increase awareness of soyfoods, educate and inform media, healthcare professionals, consumers and the retail and foodservice market about the many benefits of soyfoods. Iowa is the country's number one grower of soybeans and is the Soyfoods Capital of the world.
About the Role of Soyfoods in a Healthful Diet: Soyfoods have played an important role in Asian cuisines for centuries. In recent years they have become popular in Western countries because of their nutrition and health properties. Soyfoods are excellent sources of high-quality protein and provide a healthy mix of polyunsaturated fat. In addition, independent of their nutrient content, there is very intriguing evidence indicating soyfoods reduce risk of several chronic diseases including coronary heart disease, osteoporosis and certain forms of cancer. All individuals are well advised to eat a couple of servings of soyfoods every day.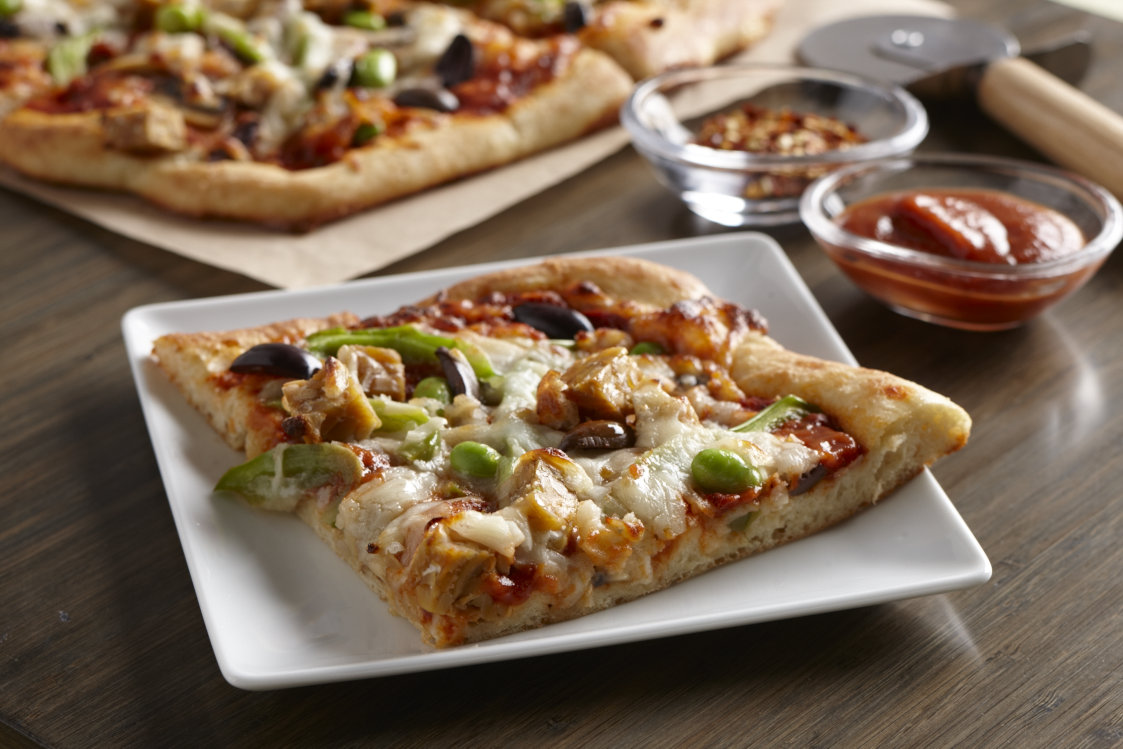 Tempeh and Edamame Pizza
Dough:
1 ¾ cups whole wheat or white flour
¼ cup soy flour
1 tablespoon active dry yeast
¾ teaspoon sea salt
1 cup warm water
1 tablespoon soybean oil
1 teaspoon honey
1-8 ounce package Tempeh, cut into small cubes
6 tablespoons soy sauce
2 clove garlic, minced
2 teaspoons minced ginger
3 Bay leaves
2 tablespoons soybean oil
Pizza Sauce
1 cup shelled edamame
1 cup sliced mushrooms
½ green pepper, seeded, sliced into strips
½ cup green olives
1 cup each, shredded Mozzarella and Provolone cheese
In a large mixing bowl, add flours, yeast, and salt, mix well. Add water, oil and honey, mix until combined. Cover bowl with moist cloth, place in warm spot for 10 minutes to rise. In a small mixing bowl add soy sauce, garlic, ginger, and bay leaves, stir to blend. Add tempeh, mix. Let marinate for 1 hour. Drain. In a small fry pan, over medium heat, add oil, heat. Add tempeh, stir fry until crispy. Place on paper town to absorb any excess oil; set aside. Press dough out onto a 14 inch pizza pan or cookie sheet. Spoon favorite pizza sauce onto dough. Sprinkle fried tempeh cubes, edamame. mushrooms, green pepper and olives onto pizza. Sprinkle shredded Mozzarella and provolone cheese over the pizza. Bake in preheated 425 F. oven for 15 to 20 minutes or until crust is browned. Cut into 6-8 pieces. Serve immediately.
Yield: 3 to 4 servings